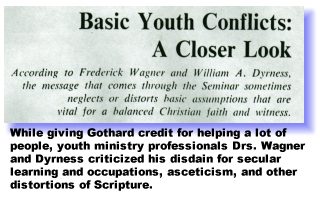 It was the third article in Eternity's coverage of Gothard that hit hardest. While reiterating some of Coote's and Keating's concerns (e.g., Gothard's asceticism), youth ministry professionals Frederick Wagner, Ph.D. (northwest American director for Inter-Varsity Christian Fellowship) and William A. Dyrness, Ph.D. (youth minister for Hinson Memorial Baptist Church, Portland, Oregon) targeted Gothard's disdain for both secular education and occupations, his "neglect of the concept of the body of Christ" (page 34), his use of the Bible as "a textbook of psychology, sociology, philosophy and even nutrition" (same page), and his overt attempt to impose the culture of biblical Israel on Christians today ... among other things.
They wrote, "The danger of Gothard's way of using the Scriptures is that it may encourage Christians to live by conformity to rules and regulations rather than in a dynamic relationship to a living God who reveals Himself within the confines of a particular culture but who stands above culture, ever judging it in terms of His own character" (page 50). This warning now reads like a fulfilled prophecy.
A sad omission shared by all the Eternity articles was any serious critique of Gothard's "umbrella of authority"/"chain-of-command" teaching. Coote's article merely mentioned it in passing, but neither Keating nor Wagner and Dyrness made any mention of it whatsoever. It's difficult to say which reason for this might be worse: the possibility that they wimped out, or that the teaching simply didn't bother them.
If the November 1973 issue of Eternity had any impact on the church at large it did not seem to affect attendance at the Basic Seminars much. Coote had observed that "If attendance keeps doubling or more each year as it has thus far, by 1981 Gothard will have shared his biblically based 'Principles of Life' with an audience equivalent to the nation's population" (page 30). Since 25 years after this was written (1998) Gothard's Institute could only boast that 2.5 million (a little over one percent of the U.S. population) had attended the Basic Seminar, it's obvious that attendance eventually levelled-off. But other events account for this levelling-off aside from the spread in Eternity. Besides, resistance to and reaction against the close scrutiny of Gothard's teaching was beginning to grow among conservative evangelicals and fundamentalists.